Complete Story

07/01/2020
Welcome from PCA's 52 President
Greetings PCA Members,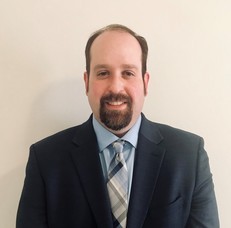 I wanted to take a moment to introduce myself, as I begin my first week as PCA President. I have been a member of the Pennsylvania Counseling Association (PCA) and the American Counseling Association (ACA) since 2011. Additionally, I have been a practicing counselor in Pennsylvania for over 13 years. Most recently, in PCA, I have taken the lead in revamping the Marketing and Outreach aspects of the association. I have also assisted as a conference proposal reviewer and an editorial board reviewer for the journal. I am excited and honored to serve the association in the coming year in my new role.
As I step into this position, I can firmly say that PCA is in great shape. Our past leaders have worked tirelessly to support initiatives that will benefit professional counselors, counselor educators, and counseling students in Pennsylvania. I want to thank our past presidents Joe Behun and Nellie Scanlon, both of whom have been exemplary leaders. PCA has many exciting ventures which will continue to put a focus on the work we do as counselors and yield new member benefits.
As I reflect on all of the positive directions PCA is taking, I feel the weight of the challenges which have arisen in our world. I step into the role of PCA President during a global pandemic, and in the wake of substantial social unrest. We have experienced the impact of COVID-19, a loss of our "normal," a focus on keeping ourselves and our loved ones safe, and an upswing in racist actions targeted at the Asian American and Pacific Islander community. We have experienced the tragic killings of George Floyd, Ahmaud Arbery, and Breonna Taylor in what is the most recent in a long line of brutality, abuse of power and unjust treatment to our Black and Brown communities. The supreme court ruled that discrimination on the basis of sexual orientation or transgender status is illegal in a historic victory. Even in this victory we recognize that this ruling serves as a reminder of how far we yet to go. In the last few weeks, we have experienced the stories of hundreds of victims of sexual harassment in online communities outing abuses that have spanned decades in a mass virtual movement. As I reflect on all of these experiences, I acknowledge that we have only made it half way through this year.
What echoes in my mind is the importance of our work, as counselors, to provide support and advocacy for ALL those in need. As a native to the Greater Pittsburgh area, I feel a special connection to Fred Rogers. According to Mr. Rogers, "People have said 'Don't cry' to other people for years and years, and all it has ever meant is, 'I'm too uncomfortable when you show your feelings. Don't cry.' I'd rather have them say, 'Go ahead and cry. I'm here to be with you.'" As counselors, we are called to always be with those who need us. I have heard the word "unprecedented" more times in the last several months than at any other time in my life, and I believe it is an accurate description of current events. During these unprecedented times, I believe the world needs counselors more than ever.
With these many challenges in mind the PCA board is adapting to provide our planned services in new ways. The PCA Conference will be offered in a fully virtual format with live online sessions during the originally planned weekend of October 2-4. Our quality programming will also be offered asynchronously, expanding the opportunity to participate in the conference. We ask everyone to bear with us as we work through unforeseeable hiccups to create something that has never been done before. We also ask that anyone who would like to help us turn this conference into a reality, please volunteer. Our conference theme, "Creativity and Innovation in the Counseling Relationship" was chosen months before any of our current world events had taken place. As we adjust to support others and provide our services in new and creative ways, I cannot help but think that the theme is ever more relevant.
Additionally, during our June 27th board meeting, the topic of PCA being active in racial justice was discussed. As a result, an Anti-Racism Task Force was formed with representation from each PCA Division. This task force will begin assessing needs and charting a direction for PCA to be able to take an active role in making changes in Pennsylvania.
I hope that you can agree that PCA has a lot on its plate and that is why we need your help. We appreciate you as a member, and we would love your active participation in the association. Reach out to PCA Executive Leadership, PCA Division Leadership, or any of our chapters or committees with your ideas and your interest in becoming an active member. If you are thinking to yourself, "I wish PCA would ________ for counselors in PA," please allow me to personally invite you to join us in our efforts. Also, please tell a friend or colleague to come and see what PCA is doing.
Looking forward to the year ahead, I want to express a special thanks to our outgoing President, Nellie Scanlon. Nellie's work to benefit professional counselors and those we serve has been nothing short of inspiring. I appreciate everything she has done to be a great colleague, mentor, and friend this past year. Her dedication to PCA government relations is unmatched, and I am certain that she will be keeping an eagle eye on all upcoming legislation in the state as she adjusts to her new role as Immediate Past President. I am grateful for her continued guidance and support this year. I also want to acknowledge the support of our PCA Treasurer and Secretary, Derek Parker and Ashley Deurlein. Without their support, this work would be impossible.
In closing I want to say that I am as proud today to be a PA counselor and member of PCA as I was all those years ago when I sat in my first counseling class. The one thing that has changed is that I have become ever more aware of all of the work that goes on behind the scenes, by a dedicated group of volunteers, who are trying to improve the lives of Pennsylvania counselors, counselor educators, counseling students, and those we serve. I look forward to serving you as your PCA President. I also hope to work with you all this year to do our part to make the world a better place.
Thank you for your membership, and for your dedication as Pennsylvania counselors.
I wish you all health, safety, and the best in everything.
Sincerely,
Stephen Kuniak PhD LPC NCC ACS
PCA President 2020-2021
pca52.president@gmail.com